This is perhaps the story that I hold closest to my heart and the reason I decided to start this blog about my parents' life's work and their journey to follow their dream.  You see, every day as far back as I can remember, I would walk through the front door of our apartment on the 11th floor in the Westend of Vancouver, only to meet another Native face that my Father was bringing to life.  Sometimes, it was a very familiar face, like that of Chief Joseph or Chief Dan George, almost like a family member, and other times, it was a new face.  But each and every one of them had a very powerful and special presence in my childhood.  I loved these Native paintings.  When I see them now, it reminds me of the sense of wisdom and pride that constantly filled our home.  I admire so much their philosophy of life and their respect for nature and I guess in some way they made me who I am today.  The Natives of North America are such an important part of my parents' story that I want everyone to know about it.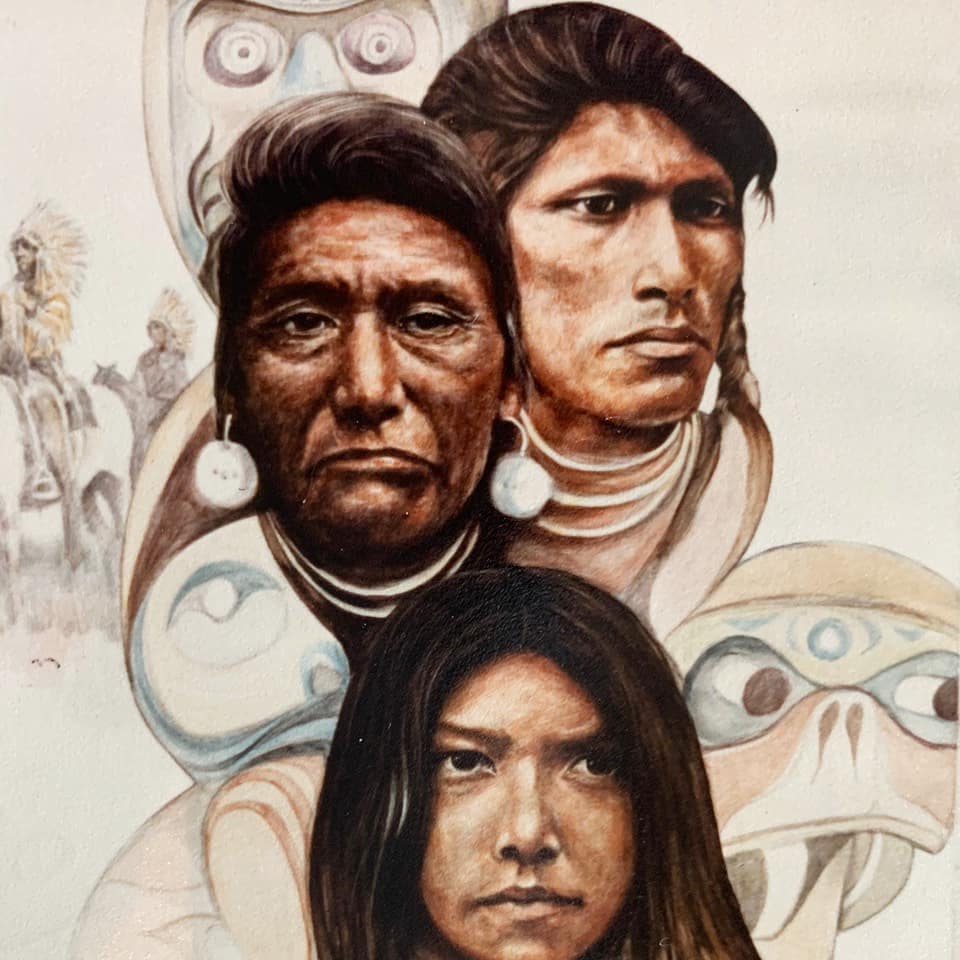 Part 1 – 1974 to 1979
How it all began…

 
Paul and Joanne introduced the Northwest Heritage style at the Pacific National Exhibition in Vancouver, BC, Canada in August 1974. Back then, they were already travelling around doing many shows throughout the year. In Vancouver, William Davey, Joanne's Father, had started the Apollo gallery in Kits and ran it from 1970 until 1981. William, was the first true patron of his future son in law's work and encouraged him in every direction that he took. He was passionate about many things, but this was one of his greatest interests. As the Secretary of the Canadian Federation of Artists, he was instrumental in acquiring the new location for the Federation on Granville Island. He also created the Apollo gallery for Paul's work and he ran his own mining business NANOME, in the offices at the back of the gallery alongside Paul's studio. Joanne worked at the Vancouver office for Nanome as well as running the gallery when they were in town.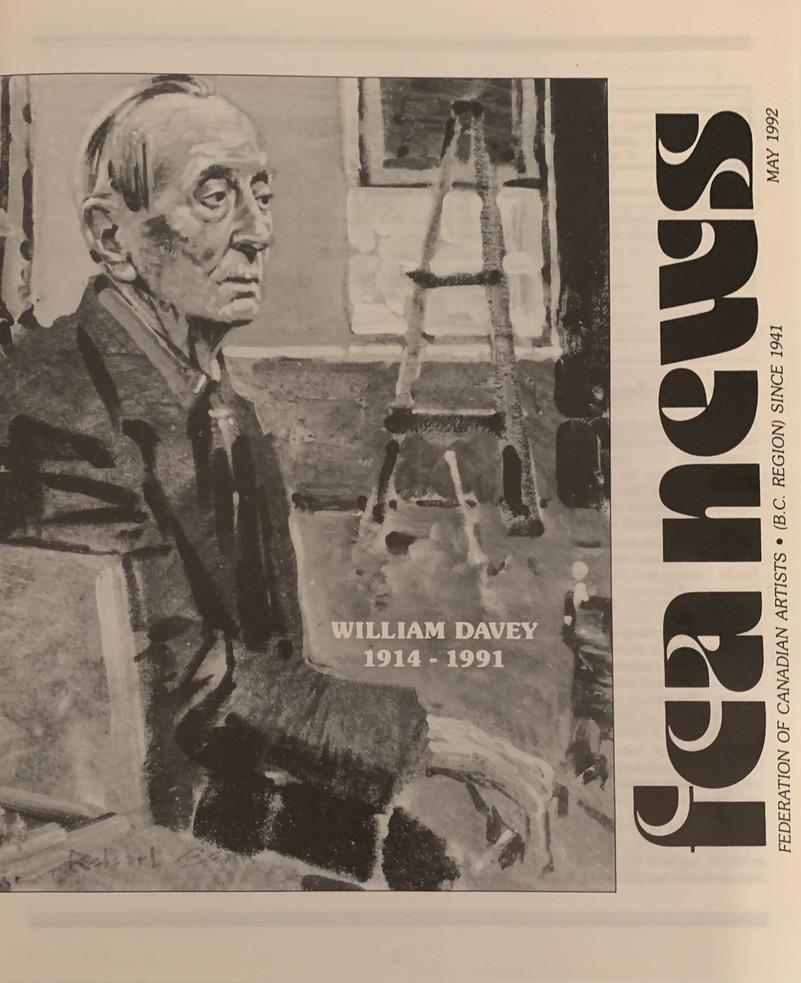 Before discovering the Native faces, Paul was mainly painting scenes and a few of his surrealistic ideas.  It was at the April 1974 Artisan Craft Fair in Vancouver where it all began.  The guy who was running this Craft Fair had cut up the Edward Curtis' book on Native Indians of North America and was selling them as 8×10 photos. My mother recalls: "I looked at these photos and immediately they reached out to me and I knew Paul would be interested. So I asked the guy where they were from and I wrote down all the info." Edward Curtis was a famous photographer from Seattle, who in the early 1900's decided to record the First People of Canada and the USA. He went out on many ventures, starting campfires and waiting patiently until the Natives' curiosity took over. They allowed him to photograph them and he created the most extensive historical works on the Native People of North America.  The entire 20 volumes of this work, comprising narrative text and photogravure images, are online. For those of you who are interested, I highly recommend taking a look here: http://curtis.library.northwestern.edu/
It truly is a step back in time.
Paul and Joanne met Curtis's daughter in the late 70s in Scottsdale, Arizona and spent an afternoon with her. At that time, she was in her mid 7O's, living in Palm Springs. She had visited the De La Mano Gallery, in Paradise Valley, Scottsdale, Arizona where Paul was resident artist for three years in the late 70's and discovered Paul's work. "She recognized her Father's studies of the Natives and was so impressed with Paul's work that she asked the gallery if they could arrange a visit with them at their apartment in Scottsdale. So she returned to Palm Springs just to spend a day with them reminiscing about her Father and commending Paul for identifying with these extraordinary studies, her Father's life works, capturing the souls of these people. She said he would be happy to think that he inspired Paul to paint such masterful works." says Joanne.
"She talked to us about her Father's trips that took him away from the family for months at a time" remembers Joanne, "and sometimes he took her sister who was also recording all the info. She was a little envious of her sister, as she did get special attention from her Father and I was surprised that she would relate these stories to us. It was fascinating to meet her and we felt honoured by her visit."
So back to that afternoon in April 1974, when Joanne discovered  the Edward Curtis book. "I remember saying to him" she says, "These are amazing studies, Mark my Words, Paul will be painting these extraordinary studies at our next big show". So that afternoon she called round to see what bookstore had a copy of Edward Curtis' book on the Natives and there was a bookshop on West Broadway near the Gallery that had it. On the following Monday, she said to Paul: "I have something very special to show you, I want to see what you think."  "As soon as Paul opened Curtis's book these portraits reached out to him, the same as they did to me. It was like travelling back in time and we were entranced. It was their expression, how Curtis captured our First People, there was a message there, it was profound,  their strength, their enduring pride and we looked at these portraits as a confirmation of a People that had suffered, lost their land, a need to tell us all that they will never be forgotten, their ancestors will never be forgotten". Paul was inspired. From that moment, the history of the Natives and their legacy became important to my Father as an artist and to my Mother's vision for his work. Through their inspiration and passion, Paul represented the First People's pride and their unbelievable inner strength.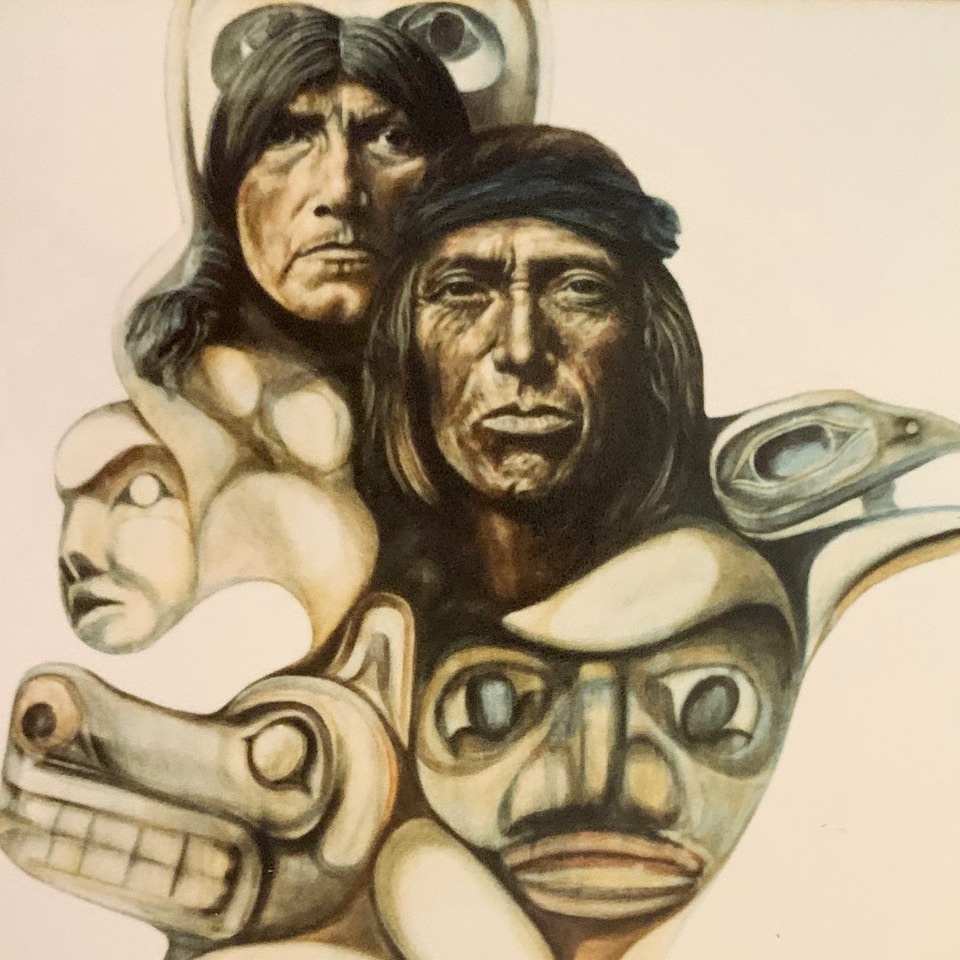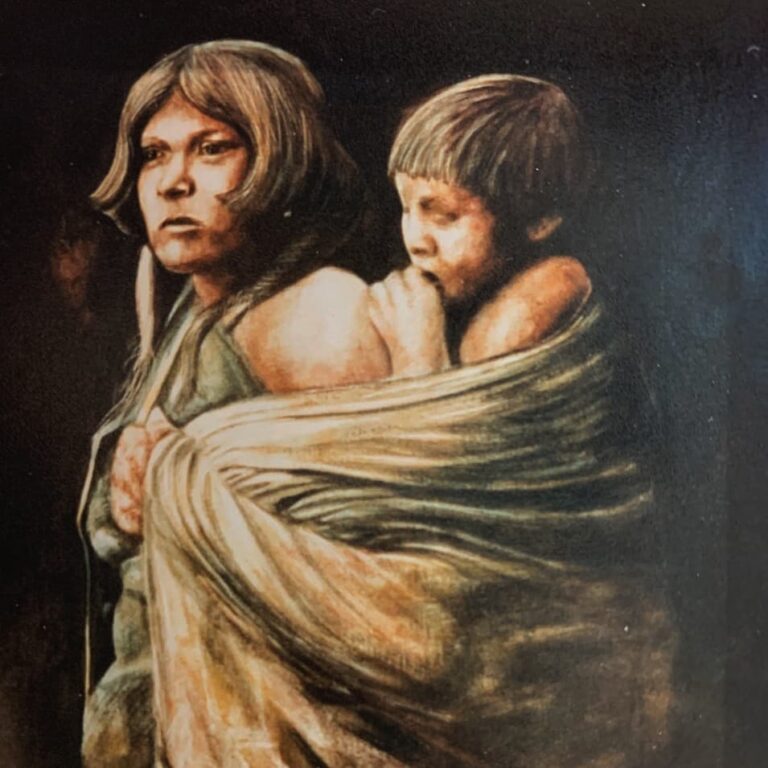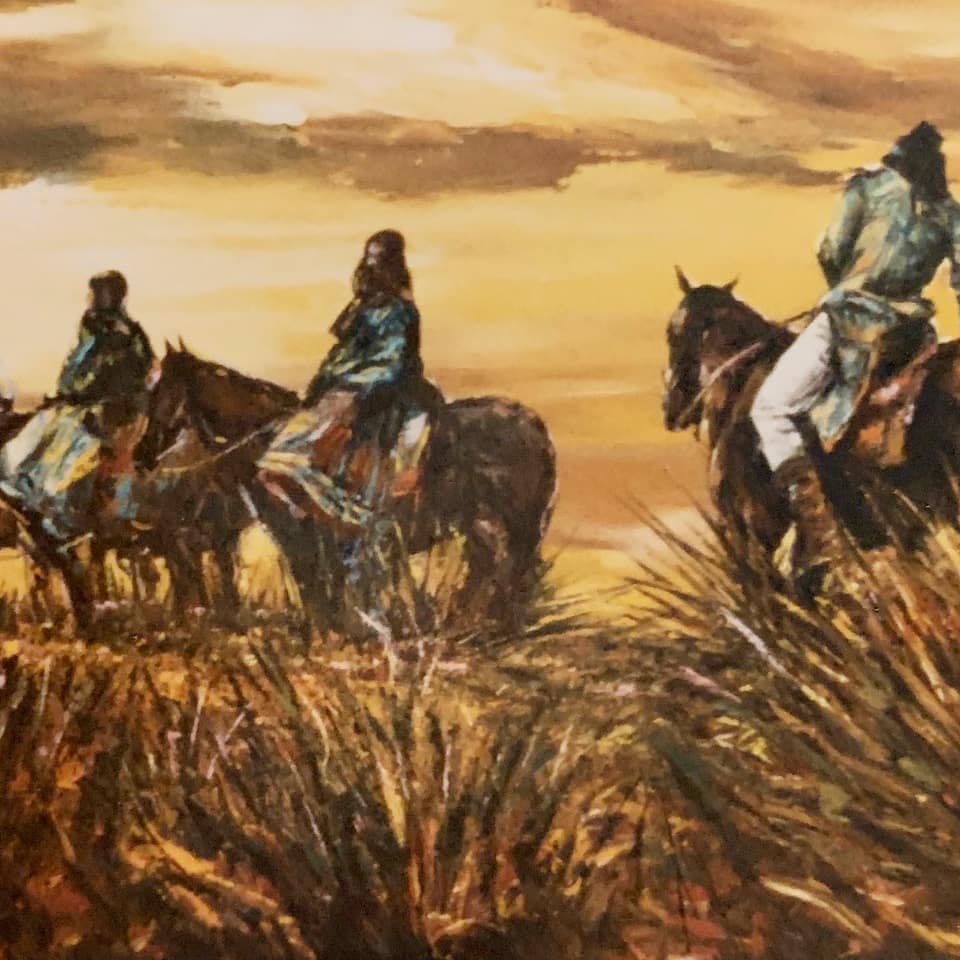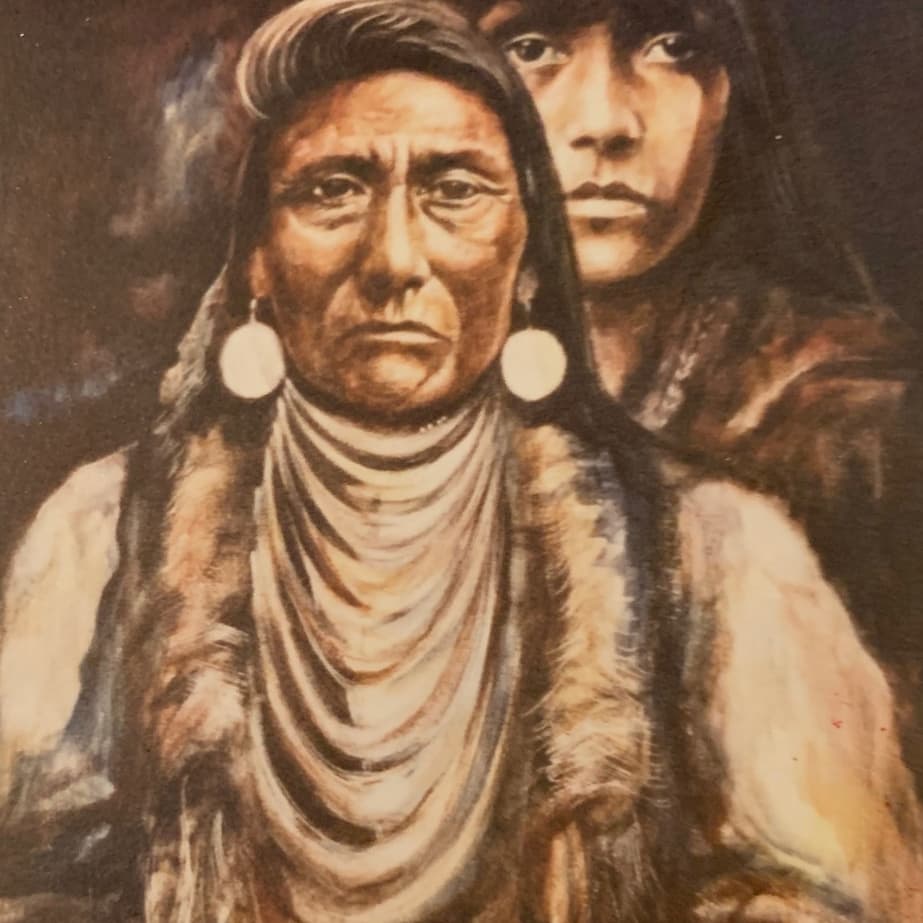 NORTH WEST HERITAGE SERIES
A little while after discovering the Edward Curtis' book, Paul was exhibiting his paintings in Stanley Park.  He had just bought his permit a couple of weeks before and from then on he would go every Saturday and Sunday to sell his works.  I have great memories of going to see him every Sunday with my Mother and brother and I remember being so proud that he was my Dad.
As usual, he had several different styles on show.  So that Saturday, a few of the artists came up to him and said: "Only artists can sell their work here, obviously you are a salesman as you have several different styles, and not one relates to the other, so you must be dealing with a few artists". Paul replied: "These are all my works" and the group of artists said: "OK, you come back tomorrow and paint" (some of the artists painted while they had their work exhibited, but Paul had never done so yet).  Naturally, they must have figured he would never return but much to their surprise he returned the very next day.
Joanne recalls: "I always remember that Saturday afternoon when Paul returned to the gallery and said to me: You know what, I am going to blow their minds, I am going to paint something they have never seen before! and neither had we.  At the back of the gallery in his studio, he stretched up a 3 x 4 ft canvas, set it up to paint vertically, and picked up Curtis's book and started sketching a Native face, then another one and then all of a sudden he started to put in the totems. They were so powerful, he had captured the very essence of the Natives and their work at the same time-it was brilliant." 
Paul and Joanne have been forever grateful to those artists at Stanley Park that had doubted Paul and had sparked his inspiration to start painting the Natives. From that day onwards he painted every weekend at Stanley park and attracted more people than any other artist.  His new style was born: the NORTHWEST HERITAGE. Since 1974 until the present day, 2021, with many new variations in between, this subject matter has continually evolved. He later started introducing his modern Native faces with colour, his interpretation and fascination for the Northwest Masks, his extraordinary murals always portraying The First People, giving homage to a great Nation, with respect and understanding of their struggle and continuation of their ongoing fight for the preservation of their identity, their culture, their language and their land.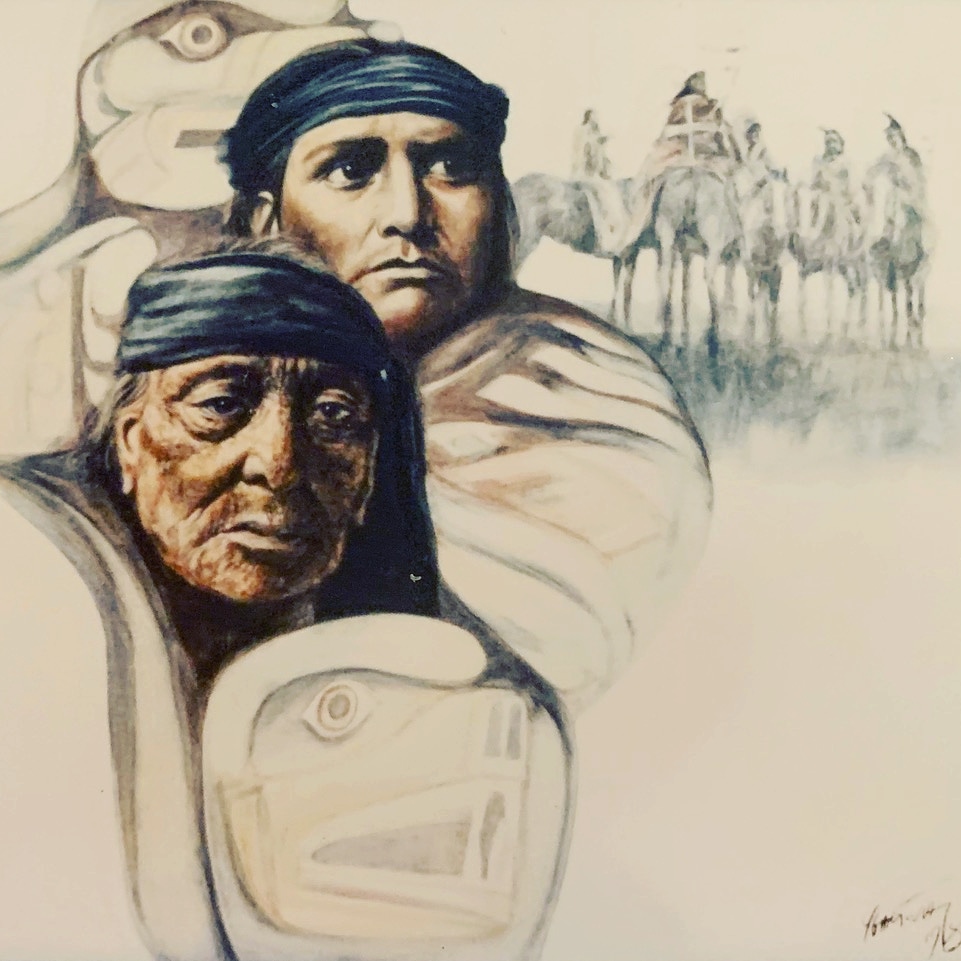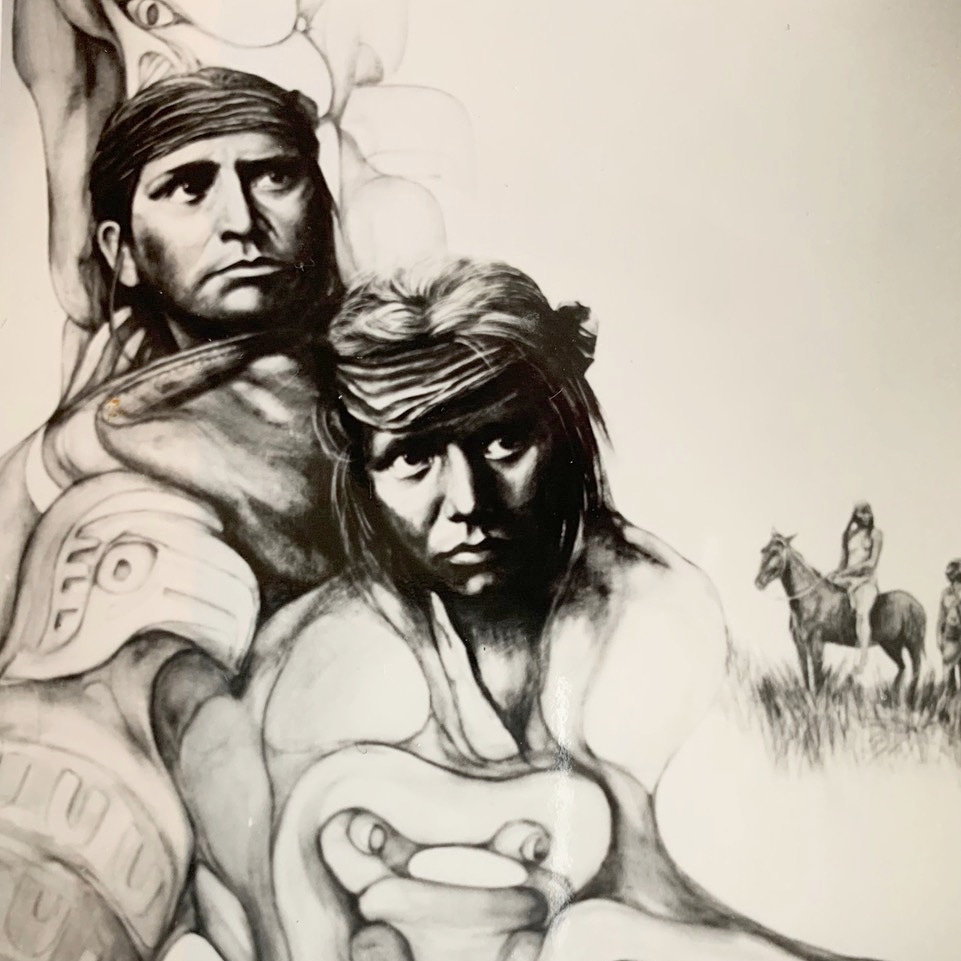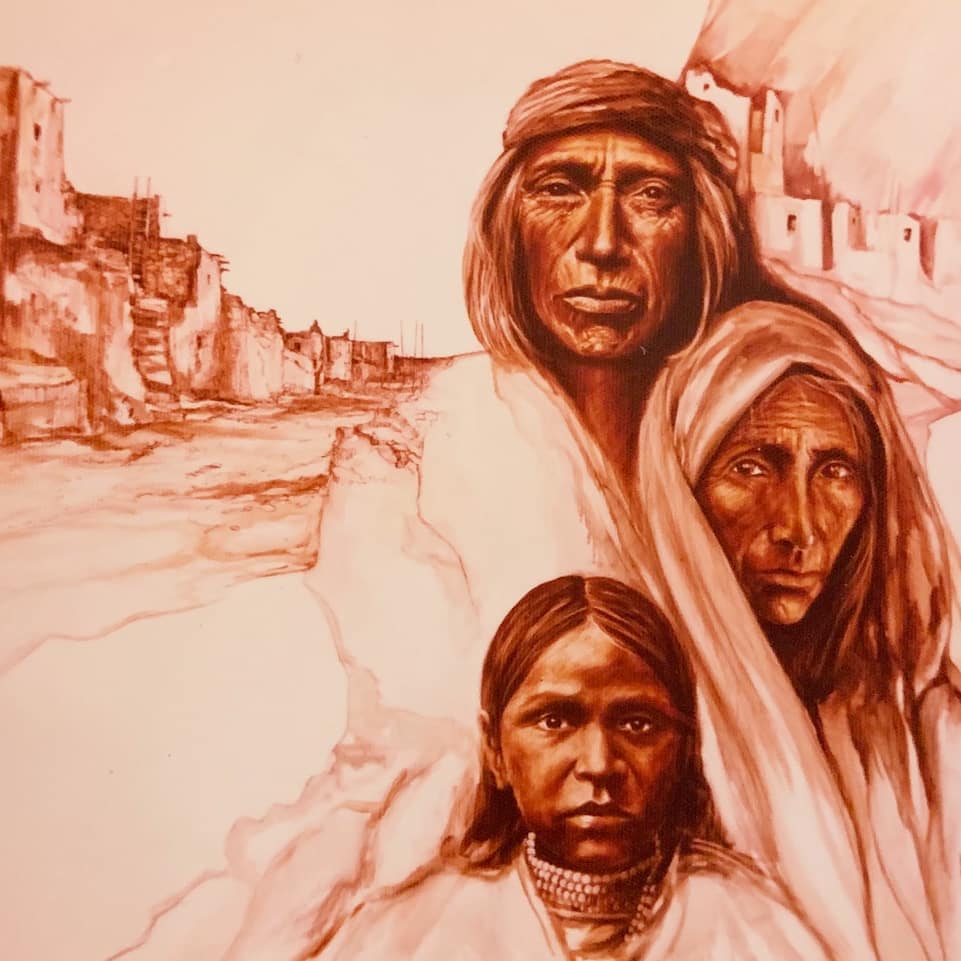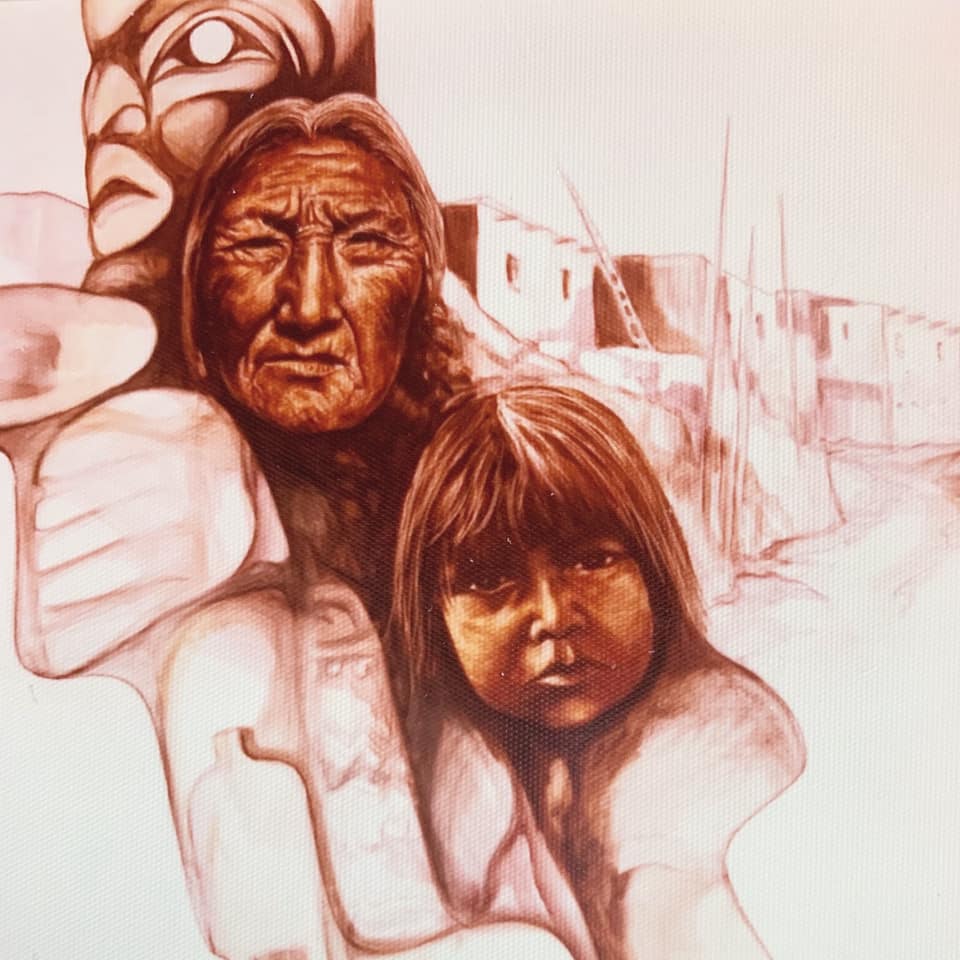 A few words from Paul about his Native work:
I try to portray the strength, the pride and wisdom of these extraordinary people. I feel an energy in certain subjects that challenges me to capture this spirit on canvas. Ever since I first saw those images captured by Edward Curtis, I have found myself drawn to the power of their presence.
I started painting portraits in the early 70's — inspired and fascinated by my own Basque Heritage. I was constantly being exposed to interesting subject matter from character studies in my own village in the Basque Country to the people from different cultures I met during my travels.
At first, my style was more realistic but now through many experimental stages over the years I am representing the faces more expressively.  I believe the emotion and the sensitivity of a face should be felt as well as seen and I love to be able to express a person's story and his life through his or her portrait.
Time line of exhibitions between 1974 and 1979
1974   Appleby Craft Fair,  Vancouver
1974  Miskin Gallery, Florida, USA
1974    Stanley Park Group Artists Outdoor Weekly Exhibition, Vancouver
1974 to 1979    Apollo Gallery, Vancouver
1974    Pacific National Exhibition, Vancouver
1974    Habitat Exhibition Pan Pacific Docks/Outdoor Show
1974    Travelling Art Show, Orange County, Venice Beach, California, Scottsdale, Arizona, USA
1974 -1979    Resident artist, De La Mano Gallery, Paradise Valley, Scottsdale, Arizona, USA
1976. Exhibition of Western Art, Death Valley National Park, CA, USA
1977. Special Exhibition, De la Mano Gallery, Paradise Valley, Arizona, USA
1977  One Man Show at the International Suite, Bayshore Inn, (now Westin) Vancouver BC, including Ygartua's first lithographs 'The Hunt' and the 'Journey'.  Guest of Honour: Chief Dan George
1978. Heritage Gallery, New Orleans and New Orleans Hotel with TV coverage 4 stations across USA.  Paul is awarded the Honorary Citizen of New Orleans during Black History Week, New Orleans, USA. 
1978. Our Native North Americans, Apollo Gallery, Vancouver, Canada
1978. The City of Vancouver gifts our twin City of Yokohama, Japan with one of Paul's Northwest Heritage paintings