Here is the story of Canadian artist Paul Ygartua and the wonderful actor, writer, activist, Chief Dan George from North Vancouver.
The Native ways and their beliefs were always a part of my life growing up in Canada. However, not every Canadian is as lucky as I was to have been introduced to their importance. Now more than ever, their belief that we should respect the Earth and worship it, is one that we need to fight for, for today and for tomorrow's generations. One Native man who greatly helped further the understanding of the First Nations in Canada was Chief Dan George. Paul and Joanne Ygartua were extremely honoured to have known Chief Dan George and to have developed a life long relationship with his son Chief Leonard George and wife Susan George. My husband, Mathieu and I were truly honoured to have had Chief Leonard George and Susan George at our wedding in 2006 in Vancouver, during which he performed a beautiful Native chant and wedding blessing.
I wanted to start off this post with a bio on Chief Dan George that my grandfather William Davey wrote in appreciation of the Family and the Chief Dan George Memorial Foundation Society in 1986.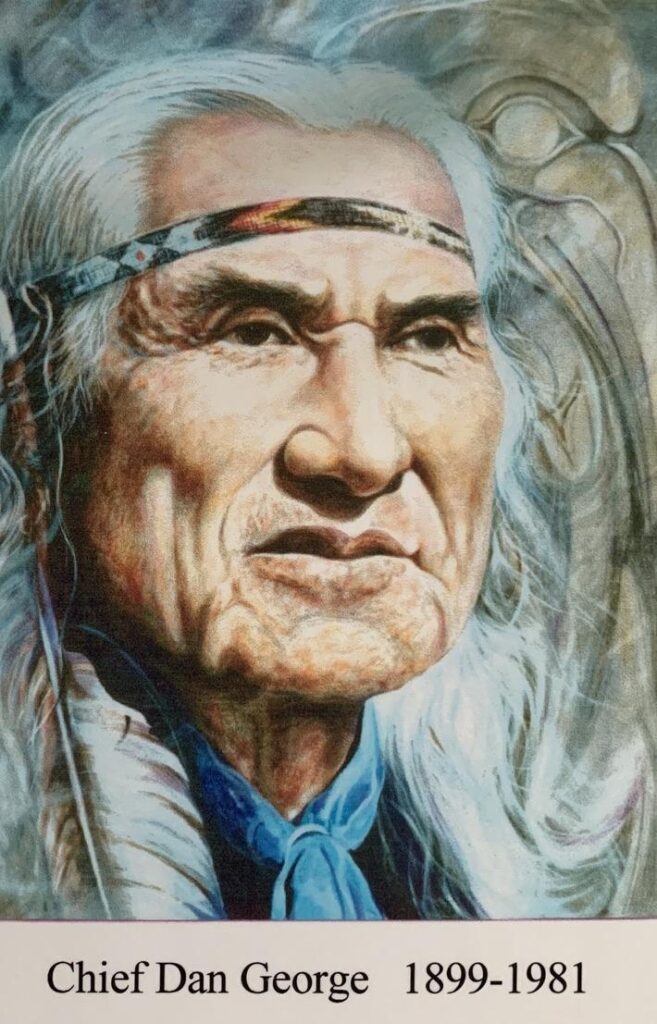 Chief Dan George 1899 – 1981
North Vancouver, B.C. Burrard Reservation
Honorary Chief of the Squamish Tribe of the Coast Salish Nation and the Shuswap Tribe of the Interior Salish Nation, Chief Dan George was not only a leader among his own people but a man among men and a credit to humanity.
This Native — this Man — was born in 1899 on the North Vancouver Burrard Reservation of his Tribe in the Province of British Columbia. His academic education was in a Catholic School until he was sixteen but from his people he learned the ways of the Native — their relationship to nature, to the animals, to the birds, the fish and to each other. And because he was a Chief, in the very real sense of the word, he understood people and related to them. His down to earth homespun philosophy and his humanity has endeared him to all.
Leaving school at sixteen he became a logger; was married three years later and had six children. Then, a long-shoreman on the Vancouver waterfront until in 1946 an injury forced his retirement from this work. Over the next ten years he became well known as a musician and entertainer, initially with his own orchestra. During this period he served a Chief of his Tribe over a twelve year period. In the mid 1950's he joined the world of broadcasting and for the next five years became deeply involved with the Canadian Broadcasting Corporation, Television and the Professional Stage. In Vancouver and Los Angeles he appeared in some twenty-five TV dramas.
His break into motion pictures was a Disney film "How to Break a Quarter Horse" and he played in many pictures including "Outlaw Josey Wells" with Clint Eastwood, "Shadow of the Hawk" with Michael Jan Vincent culminating in his Academy Award nomination in "Little Big Man" with Dustin Hoffman.
Nor did his accomplishments stop here for he toured the country in shows and in speaking engagements. He was honored throughout, with a Doctorate at the University of Manitoba, Guest of Honor at a State Dinner of Queen Elizabeth on her Royal Yacht, Britannia; acclaimed as best supporting actor by the New York Film Critics and invested with the Order of Canada by the Governor General of Canada for his distinguished career.
Chief Dan George was a man who did not believe in violence but who never stopped working for his people and felt that his way was best. His own words from one of his speaking engagements tell us how keenly he felt.
"I found myself and my People adrift in this new age ….But not a part of it. I had a glimpse of something better than this. For a few brief years I knew my people when we lived the old life — I knew them when there was still a dignity in our lives and a feeling of worth in our outlook…"
And later in the same engagement,
"Let no one forget it ….we are a people with special rights guaranteed to us by promises and treaties. We do not beg for these rights, nor do we thank you….we do not thank you for them because we paid for them….and God help us the price we paid was exorbitant. We paid for them with our culture, our dignity and self respect. We paid and paid and paid until we became a beaten race, poverty stricken and conquered."
And finishing,
"And now it is the end. May I say thanks to you for the warmth of your understanding."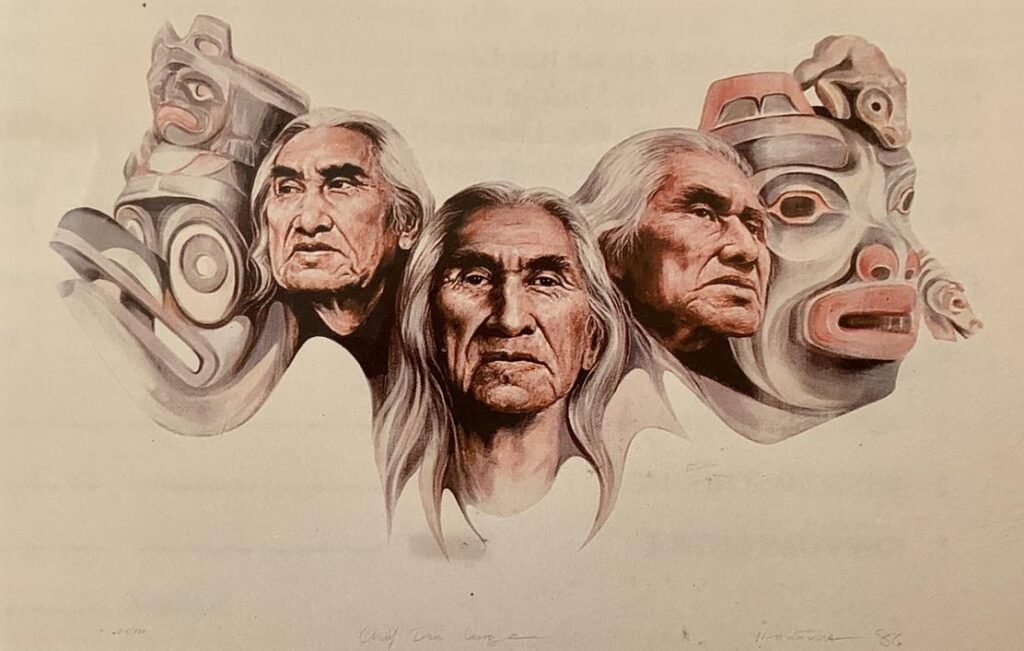 Paul started painting the Native People in 1974 but his first encounter with our local natives here in Vancouver was on the HMS Carinthia in March, 1966 when he immigrated to Canada, a young 20 year old seeking a new adventure in the New World.
The boat had a first class and the second class was mainly young immigrants. Peter Finch, the actor, was of course in First Class, but came down to the second class nightly to join in on the fun, as he said "It is more fun down here." So during that week of fun, crossing the Atlantic, Paul coincidentally made friends with Dan Baker, a kindred spirit, who later became Chief Dan Baker from our local Squamish Nation. Young Dan Baker was also an artist and was just returning from a painting sojourn in Europe. They had a lot in common, even though at that time, Paul had no idea that the Native People of Canada would become such an influential part of his life.
As the story goes Paul and Dan had a bet who could hang over the side of the boat, nearly got thrown into the brig, the dare-devils of the Carinthia! Fortunately they survived the trip and when they finally arrived in Vancouver, Dan invited Paul to come to the reservation in North Vancouver, the Squamish Nation. He joined him and his family on several occasions for dinner. The first couple of months he went to some of the clubs in Vancouver with the natives. Eight years later he would start his life long study of the First People of North America.
A year after Paul's arrival in Canada, on the 1st of July 1967, during Canada's centennial celebrations, Chief Dan George, stepped up to the podium to deliver a magnificient speech to over 32,000 people in Vancouver's Empire Stadium.  I highly recommend you take a moment and listen to his speech above. His powerful message is one that still needs to be heard today. I can't imagine having been in the audience at that historic moment in time.
CENTENNIAL SPEECH OF CHIEF DAN GEORGE, JULY 1, 1967
A LAMENT FOR CONFEDERATION by CHIEF DAN GEORGE
How long have I known you, Oh Canada? A hundred years? Yes, a hundred years. And many, many seelanum (lunar months) more. And today, when you celebrate your hundred years, Oh Canada, I am sad for all the Indian people throughout the land.
For I have known you when your forests were mine; when they gave me my meat and my clothing. I have known you in your streams and rivers where your fish flashed and danced in the sun, where the waters said 'come, come and eat of my abundance.' I have known you in the freedom of the winds. And my spirit, like the winds, once roamed your good lands.
But in the long hundred years since the white man came, I have seen my freedom disappear like the salmon going mysteriously out to sea. The white man's strange customs, which I could not understand, pressed down upon me until I could no longer breathe.
When I fought to protect my land and my home, I was called a savage. When I neither understood nor welcomed his way of life, I was called lazy. When I tried to rule my people, I was stripped of my authority.
My nation was ignored in your history textbooks — they were little more important in the history of Canada than the buffalo that ranged the plains. I was ridiculed in your plays and motion pictures, and when I drank your fire-water, I got drunk — very, very drunk. And I forgot.
Oh Canada, how can I celebrate with you this centenary, this hundred years? Shall I thank you for the reserves that are left to me of my beautiful forests? For the canned fish of my rivers? For the loss of my pride and authority, even among my own people? For the lack of my will to fight back? No! I must forget what's past and gone.
Oh God in heaven! Give me back the courage of the olden chiefs. Let me wrestle with my surroundings. Let me again, as in the days of old, dominate my environment. Let me humbly accept this new culture and through it rise up and go on.
Oh God! Like the thunderbird of old I shall rise again out of the sea; I shall grab the instruments of the white man's success — his education, his skills, and with these new tools I shall build my race into the proudest segment of your society. Before I follow the great chiefs who have gone before us, Oh Canada, I shall see these things come to pass.
I shall see our young braves and our chiefs sitting in the houses of law and government, ruling and being ruled by the knowledge and freedoms of our great land. So shall we shatter the barriers of our isolation. So shall the next hundred years be the greatest in the proud history of our tribes and nations.

Paul did bump into Chief Dan George a few times when he stopped off for a drink at The Travellers bar, in Gastown, not knowing who he was at the time. Paul remembers that he was extraordinarily approachable, so easy to talk to.  Of course soon after, Paul started hearing stories about Chief Dan George… the actor, an important leader in Vancouver and across Canada. In 1970, the movie Little Big Man with Dustin Hoffman came out. Chief Dan George became world famous and was nominated for the Oscar for Best Actor in a supporting role. Then in 1976, he played Lone Watie in the movie Jose Wells alongside Clint Eastwood. He had a natural presence and ability to connect to the public.
So in 1977, when Paul and Joanne did the One Man Show, North West Heritage, at the Bayshore Inn (now the Westin) in Vancouver, they were thrilled when Lou and Garth from Rogell Enterprises (who had produced the first prints, The Hunt and The Journey), arranged to have Chief Dan George as Guest of Honor and an interview with CBC television. It was an unforgettable evening.
"It was the greatest honor of our life, Joanne and I, to have Chief Dan George as Guest of Honor at our special show NORTH WEST HERITAGE at the Bayshore in Vancouver."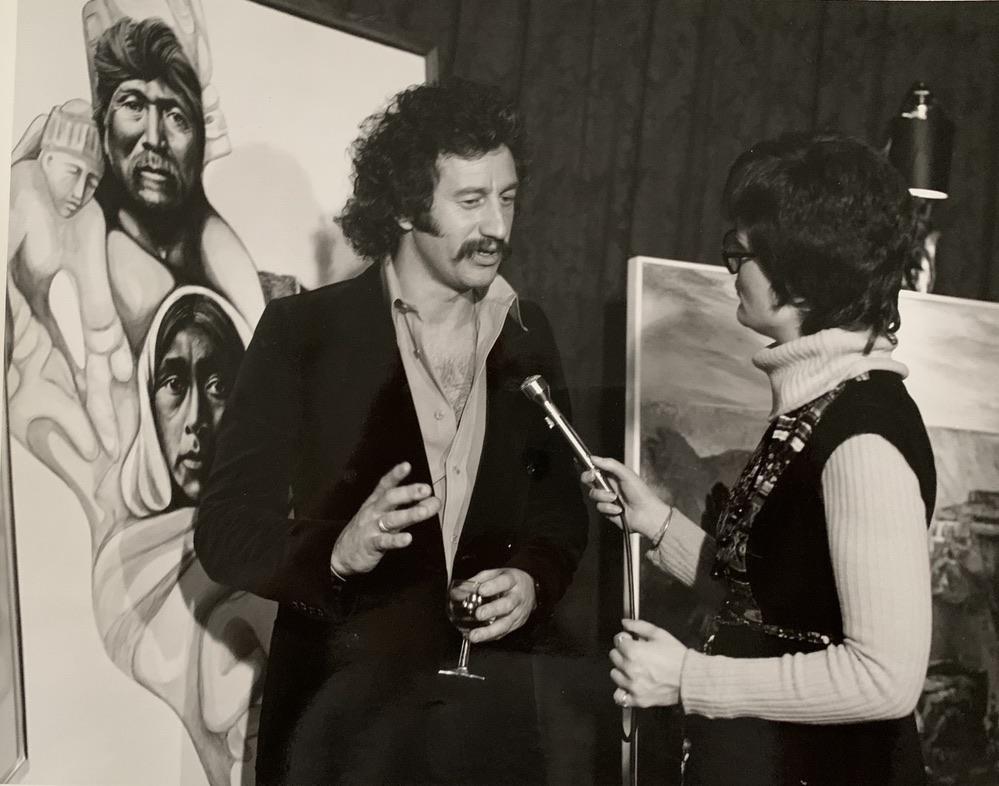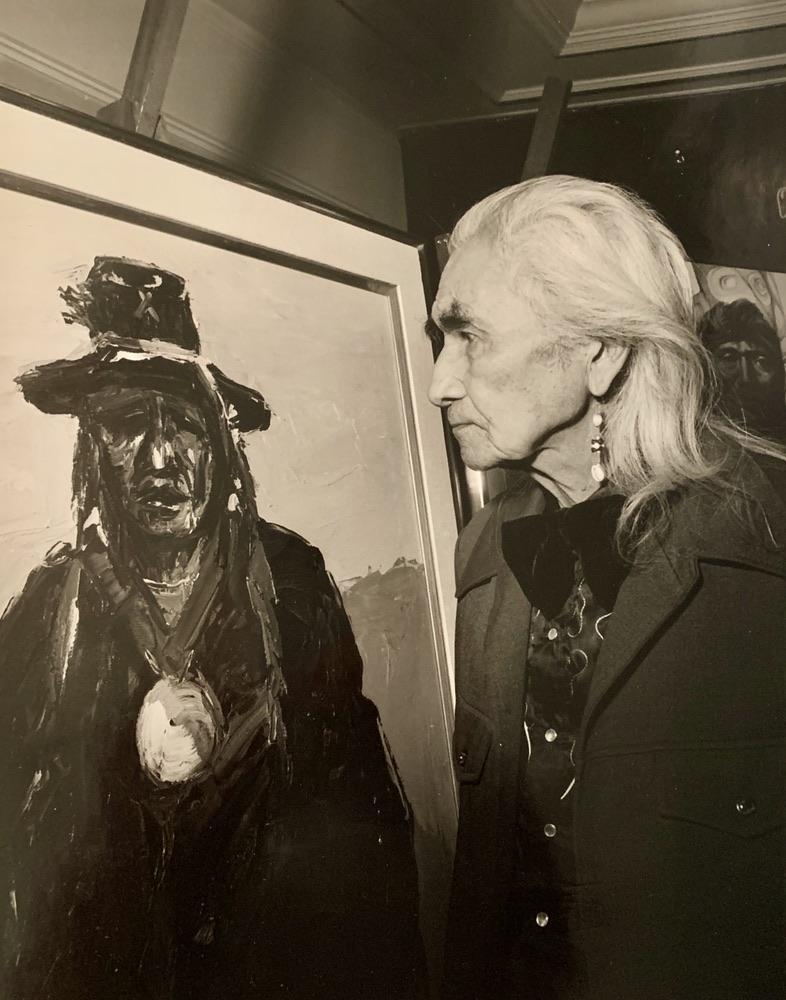 Paul said to Chief Dan George that he would like to give him a gift and asked him to choose his favourite painting.   He chose the most modern, unique painting of the show, GERONIMO, which I imagine was also one of his heroes.  Geronimo (1829-1909) was an Apache leader and medicine man famous for his fearlessness in resisting anyone who attempted to remove his people from their tribal lands.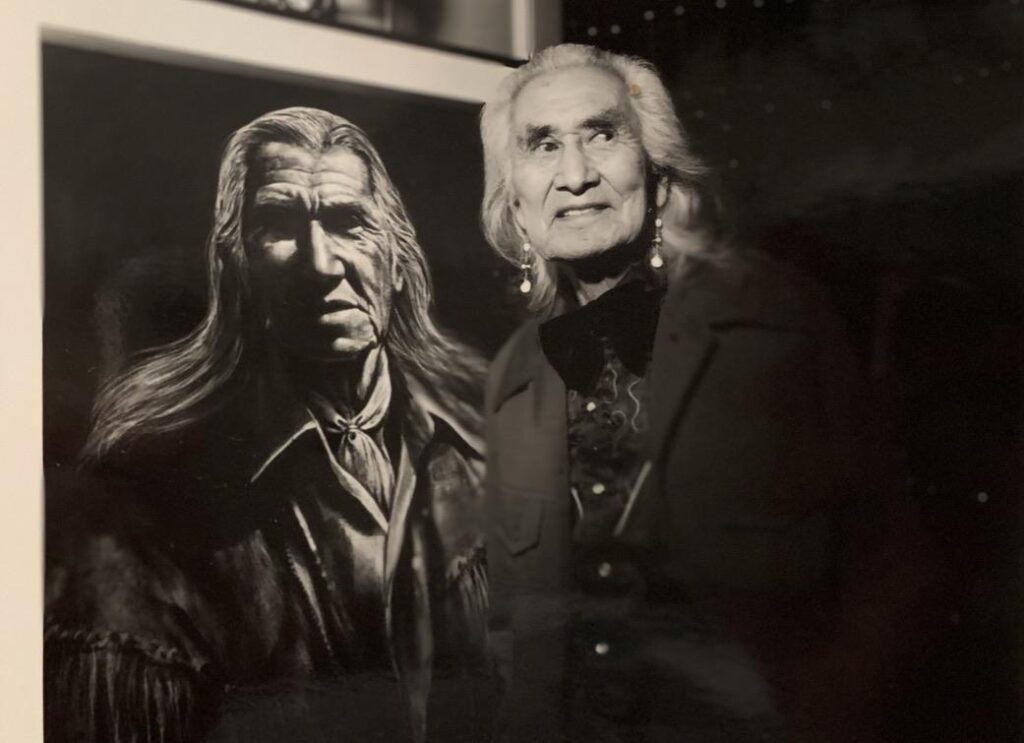 Thanks to that show, one of their clients, Doris Peters, who was friends with Chief Dan George's son invited them all to dinner at her home. From that night, a friendship began with Chief Leonard George and his wife Susan. It is a friendship that has always meant a great deal to Paul and Joanne.
This Limited Edition lithograph above was commissioned by Chief Leonard George to commemorate his Father's famous Centennial Speech of 1967 which was superimposed down the side of the painting on the Limited Edition, therefore a double process. The original painting is part of the George's Family Collection and all rights for the limited edition went directly to the Chief Dan George Family.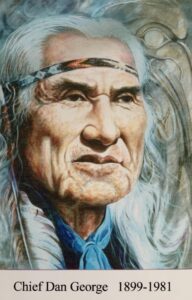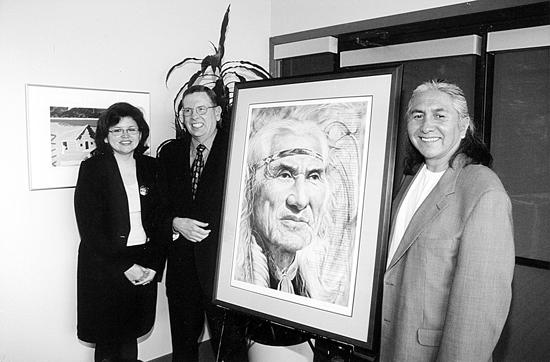 "During a recent ceremony at SFU's Diamond University Centre, Chief Leah George, Tsleil-Waututh First Nation, and John Waterhouse, VP-academic ratified a community partnership agreement to support the development of the Chief Dan George centre for advanced education in downtown Vancouver. The centre will offer programs incorporating First Nations content and perspective. To mark the signing the George family presented a portrait of the actor Dan George to the university. Leah George (left), John Waterhouse and Leonard George admire the work of noted Canadian artist, Paul Ygartua." (2001) (https://www.sfu.ca/archive-sfunews/sfnews/2001/June28/dan.george.html)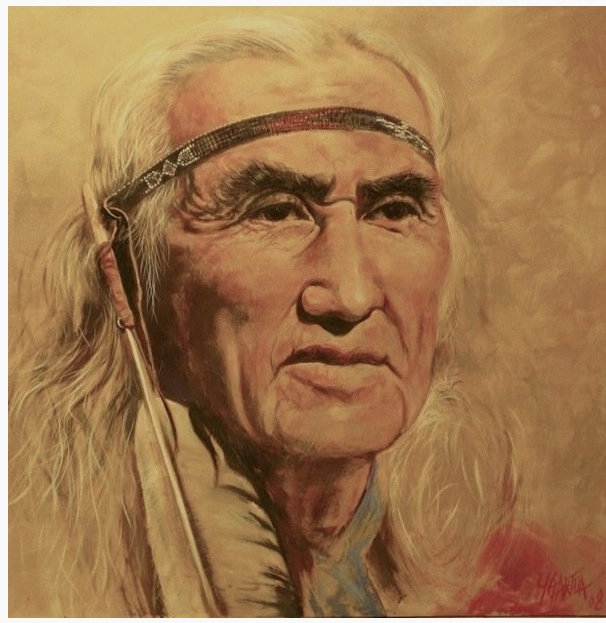 This portrait of Chief Dan George done in 2008 is currently in the Simon Fraser University Bill Reid Collection.  The Bill Reid Gallery is home to the Simon Fraser University Bill Reid Collection and special exhibitions of contemporary Indigenous Art of the Northwest Coast of North America. It is Canada's only public gallery dedicated to contemporary Indigenous Art of the Northwest Coast.  
In the year 2000, Paul was commissioned by Beachcomber Hot Tubs to honour and salute the icons and legends of the 20th Century.  It was the largest mural at the time at 24 by 390 feet. This mural features 31 of the world's most inspiring renowned legends and record-breakers.  "We are proud to share this painting with our community, and the world. These legendary people give us hope. They represent the saying 'dreams can come true', and show us all what can be accomplished with determination and passion." Keith Scott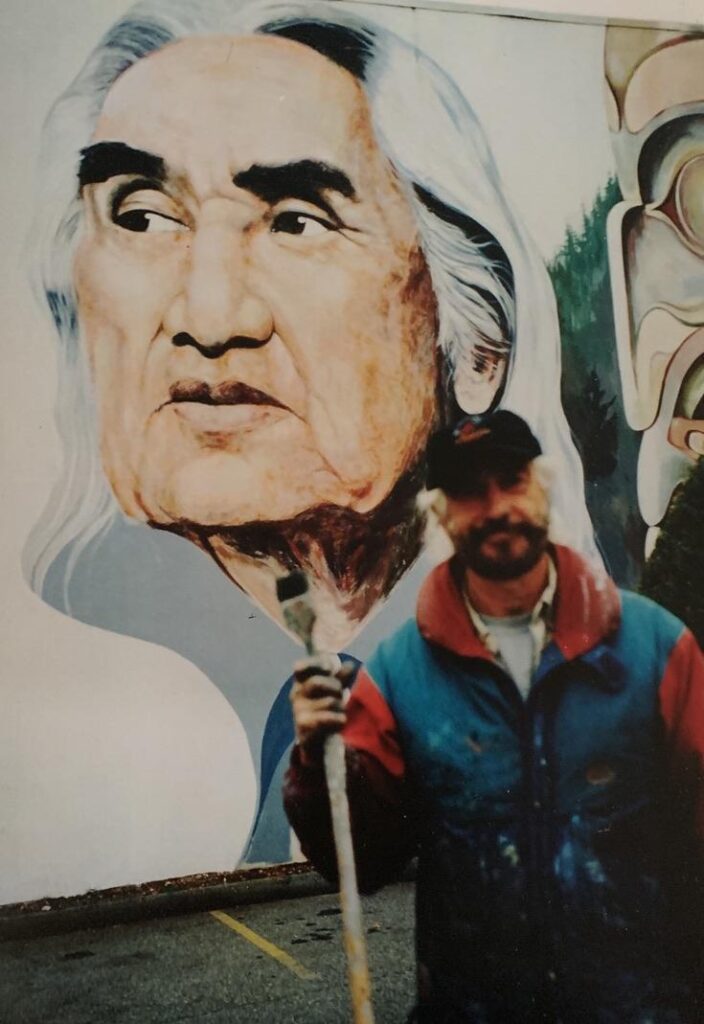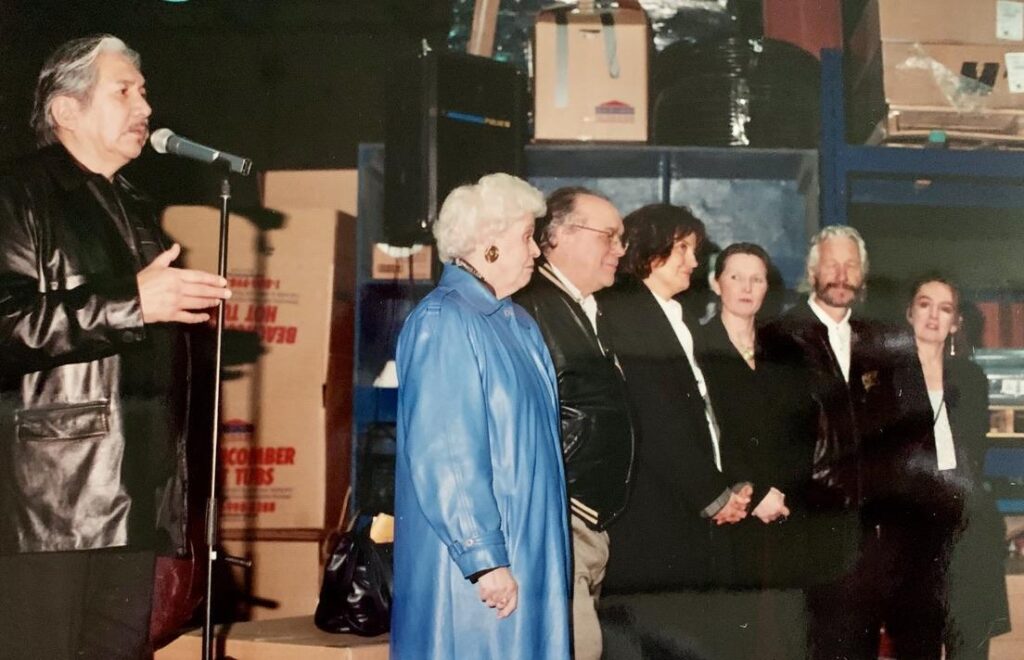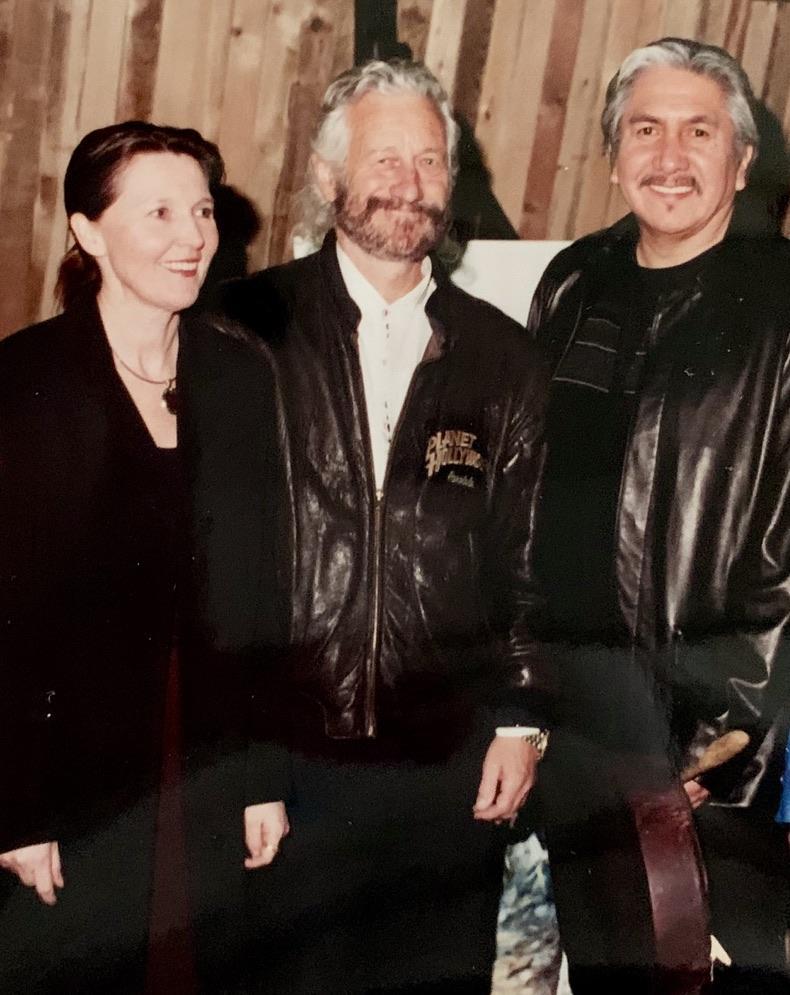 Chief Dan George was featured here as one of our most notable Canadians. Keith Scott, the owner of Beachcomber Hot Tubs, was an admirer and collector of Native art and a patron of many local native carvers.  His appreciation for their culture is portrayed here, honouring Canada's First People.
For some inspiring Chief Dan George quotes please check out our "Chief Dan George" highlight on our instagram account and follow us!